Events are all about connections. Exactly why marketing automation for event management can be an effective marketing channel – if you plan it out correctly.
What makes marketing automation for event marketing unique is applying marketing automation functions to the day-to-day operations related to an event rather than a specific product or service.
Jump Directly to
1 . What is Event Marketing Automation?
2. Tips to start event marketing automation
3. Tap into the power of marketing automation
While marketing automation can be associated with any business, it has become a significant event management component during the planning, execution, and follow-up phases.
In this article, we'll explain how marketing automation works, what marketing automation for event management is, and give you some tips for getting started with event marketing automation.
---
Still Not an User of Aritic PinPoint Automation?
---
---
What is Event Marketing Automation?
Marketing automation for event management provides the convenience to help marketers optimize the impact of their event spending. Best-in-Class solutions automate critical event management tasks and give functionality to increase attendance, capture extensive attendee data and provide insight into sales and marketing activities.
---
Tips to Start Marketing Automation for Event Management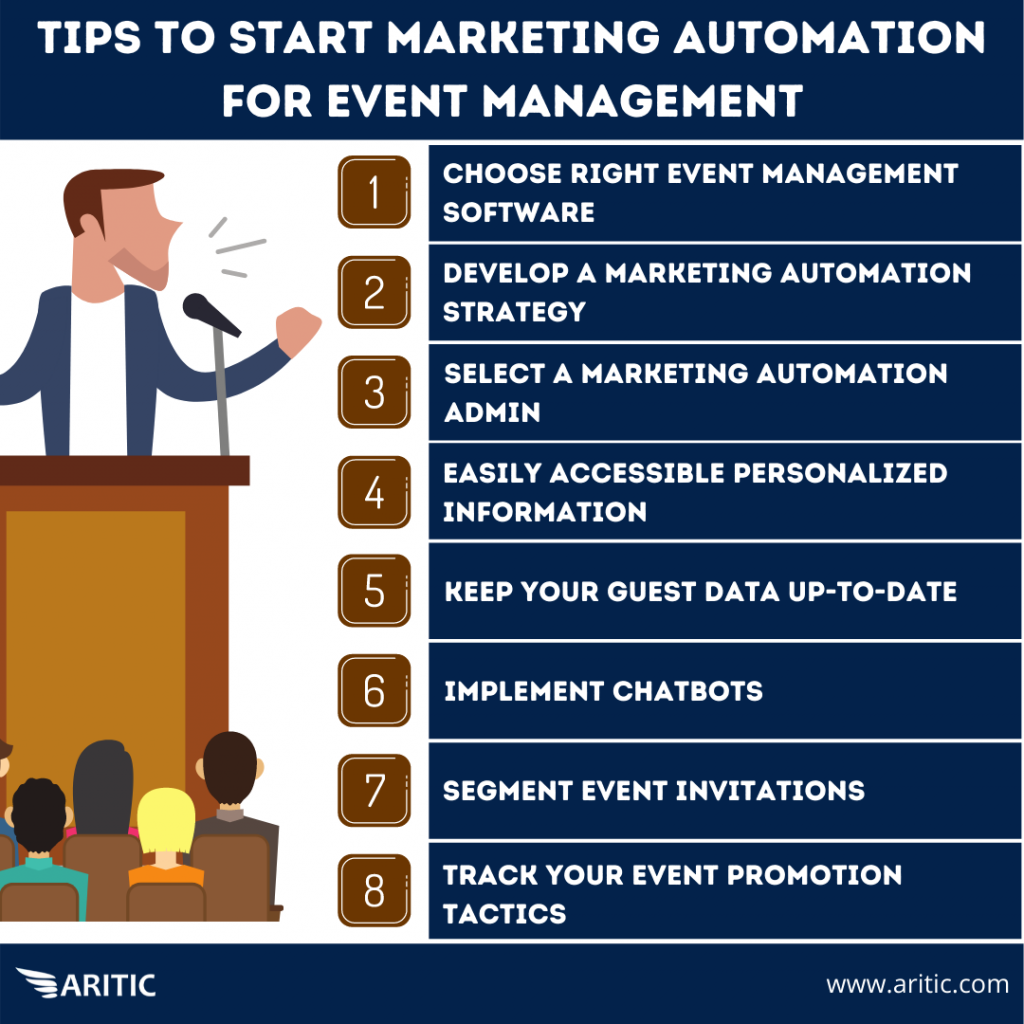 Let's look at some effective tips on how to get going with event marketing automation like a pro.
1. Choose the right event management software
To achieve absolute marketing automation for event management, you actually require a robust event management platform to control and streamline processes. For this reason, it is crucial to choose a powerful event management software.
Furthermore, besides the usual functions, a successful event marketer needs to launch a successful event (event registration, landing pages, mobile app, and analytics).
Therefore, yes, selecting a tool with all corresponding features with open-ended integration possibilities is key.
2. Develop a marketing automation strategy
To launch an event marketing campaign that best leverages event data, you definitely cannot do away with marketing automation platforms. You surely need marketing automation for event management to automate repetitive tasks and maintain the momentum of your campaign. You're also going to need a framework acting as a base for all your marketing automation for event management decisions.
3. Select a marketing automation admin
Marketing automation for event management involves certain levels such as creating workflows, maintaining smart segmented lists, and integrating platforms.
Thus, it does require a dedicated marketing operations specialist on your team who is adept at handling all the technical work, right from setting up automated marketing to managing event marketing campaigns.
Thus, by selecting a specific responsible person to take stock of the implementation of various systems, reports, and workflows, you can minimize the likelihood of encountering problems related to irregularities and disorganization in the platform.
4. Easily accessible personalized information
One of the most significant benefits of using automation in your event marketing campaign is getting easy access to personalized information.
For event planners, this is a great help for bringing in real personalization factors and enabling them to filter the guest list and attendees in relation to event reminders and website aggregation for marketing promotion.
5. Keep your guest data Up-to-date
Be sure to collect the attendees' data, keep it up to date and analyze it to get to know them better. This data can be gathered through event registration, check-in, virtual badge scans, educational seminars, and other viable means.
Analyzing this data allows you to understand user behavior better, eliminate outdated data, and determine what kind of events they would want to attend in the future.
6. Implement Chatbots
Make sure you implement AI-infused Chatbots for the event planners and attendees to get in touch with you quickly. Plus, using Chatbots in your event marketing automation plan may significantly increase the efficacy of your campaigns.
This is because chatbots are adept at delivering customer support, interpreting customer queries, swiftly resolving problems, automating user check-in, and obtaining user information.
7. Segment Event Invitations
Your audience may have varied reasons and goals as to why they show interest to attend your virtual event. As such, it is advisable to segment your audiences depending upon various demographic groups to base out your event invitations.
To do so, generate match patterns for event attendees and generate content as per their needs for each audience segment to be on top of their minds. In addition, produce strategic invitation lists according to the segmentation rule, as this will help you analyze the influence of your specific speakers on the different participants of your virtual event.
8. Track your Event Promotion Tactics
Undoubtedly, you need to track and measure the results of your event promotion efforts to determine what has worked and what has not. In addition, it will help you analyze what tactics have yielded favorable results and thus help you compare for an even better strategy in the future.
---
Execute Effective Marketing Automation Workflows Now
---
After all, you have devoted much effort, time, and money to promote your event marketing campaigns.
UTM links and codes used in all promotional initiatives will assist you in measuring where your sign-ups came from, what led to a change in perception (if any) and figure out where to further focus your efforts and energy for your subsequent event marketing campaigns.
9. Automate reports to track what went right and wrong
Analytics and Reports help you transform all the information you have gathered into usable information. For example, you get to identify problematic areas during an event, such as drop-outs during the event, present attendees, or more.
Then you can choose the most important data points to track and automate email communications for your event and sales teams to improve performance and generate revenue.
---
Tap into the power of marketing automation
Marketing automation is a powerful tool when used to its full advantage and it is a saving grace for event marketing. We hope you now understand how you can harness the potential of marketing automation for event management to level up your campaign efforts.
Is your company planning to take advantage of marketing automation as part of a broader marketing strategy? Or are you just looking for a new marketing automation platform?
Aritic PinPoint gets you everything you need to implement the best marketing automation campaign that streamlines the customer journey, facilitates lead management, and turns leads into satisfied customers.
Conclusion
In conclusion, marketing automation for event management can be a powerful tool , helping to streamline communication, increase attendee engagement, and ultimately drive more successful events.
By following the above steps and leveraging marketing automation, event managers can save time and resources while also improving the attendee experience and achieving better event outcomes. Remember to start with clear goals in mind and take a data-driven approach to continually refine your strategies and tactics.
⭐ What are B2B marketing strategies?
A B2B (business-to-business) marketing strategy focuses on building relationships with businesses and corporations. In contrast, a B2C (business-to-consumer) marketing strategy centers on building relationships with individual consumers.
⭐ What is sales funnel automation?
Sales funnel automation is a new concept, but it has been around for decades. It is defined as the use of software to automatically execute tasks that would usually be done manually.
⭐ Are Chatbots AI or automation?
Yes, chatbots are A.I. The definition of AI includes machines capable of responding smartly to new situations without human intervention. And, this certainly holds true for chatbots.
⭐ How effective are chatbots?
A chatbot is a computer program that simulates a conversation with human users, whether by text or audio.  Chatbots offer an interesting alternative to human interaction for a range of tasks. They are highly effective and can be used in customer service, marketing campaigns and sales.
⭐ Why do businesses use chatbots?
Companies have started using chatbots for several reasons. The more common, however, is the ability to offer customer service 24 hours a day, 7 days a week. In addition, the right chatbot strategy can improve user experience and increase client satisfaction.
⭐ What kind of businesses need chatbots?
Chatbots have been much hype lately, but not all companies need to invest in their own conversational AI or chatbot. In fact, chatbots should be a natural fit for your business that doesn't have a dedicated customer service team or round-the-clock support force—and this is where they find their real value.
⭐ Which industry uses chatbots the most?
Chatbots are used in all industries nowadays. Its immense potential allows people to explore different ways of using chatbots. 
⭐ Why personalized content is important?
The first step in creating a meaningful connection with your audience is by understanding them. In order to be effective, you must create content that offers value to the consumer. This can be achieved through personalized content.