Recruitment marketing automation is not something new but something that's clearly in action across all recruitment firms.
Quick Links
2. Recruitment marketing automation formula 101: Mind your medium for better results
3. Everything boils down to high-end personalization and automation: Recruitment Marketing Automation
Recruitment is not a one-way deal. As much as a candidate works to make his/her profile look great, so does a brand or recruitment firm. Attracting talent can be challenging if recruiters pose to look too clever or too easy with no interesting substance to grab a candidate's attention.
Recruitment needs both the candidates and the company to be equally interested in each other.
John Vlastelica, the Managing Director of Recruiting Toolbox, recommends leveraging your respective candidate pool's interest and passion for triggering more attractive messaging.
---
Still Not an User of Aritic PinPoint Automation?
---
---
Candidate-data rules
Assuming that your candidates will rush to you can be delusional, especially if you do nothing to be seen. Modern recruitment marketing automation needs companies to keep a tab on what social sites their ideal candidates use, what communities they participate in the most, and what kind of technology they are interested in precisely.
By monitoring and collecting these data on recruitment automation software, companies can then line up a more relevant conversation with these candidates with marketing automation examples.
Why does a company need to worry about a candidate's preferences when in such situations, companies have the upper hand?
Myth busted. You, as a brand, do not have the upper hand. If a candidate is genuinely a fit for your company, you'd surely want that candidate to join your team. When you talk to your ideal candidates about what interests them, you are most likely to get a positive response.
Including culture compatibility in recruitment marketing messages can help in creating the right work environment. You create a workspace where your workers love what they do and where they are doing it.
---
Recruitment marketing automation formula 101: Mind your medium for better results
Your messaging efforts will go in vain if you are not paying attention to your medium. Each marketing medium is different; obviously, rules will also be different. For instance, voicemails should not cross 30-40 seconds and should be very short and focused. Similarly, emails capped at 2-3 short paragraphs are better.
Twitter already has a limit on the number of characters, still keeping it shorter than 140 characters is great. Talking about social media conversations, Facebook is probably where a majority of your candidates are. So, for Facebook messages, you can stick to 2-3 casual sentences.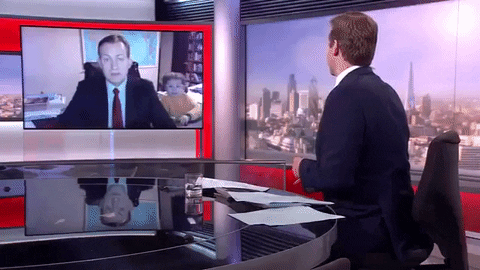 ---
Everything boils down to high-end personalization and automation: Recruitment Marketing Automation
Whether you are sending voicemail or emails, you KNOW what to share, when to share, and HOW to share. But what present recruiters are missing out on is- personalization.
With all the candidate data, recruiters are creating drip email campaigns where one email goes out after the other with the help of recruitment marketing automation. The problem is, they lack personalization. These emails are boring, run-of-the-mill-kind, and repetitive.
Does this mean you sit down to call up everyone one by one and talk to them for hours? or maybe write to them in colored papers? NO.
Personalization is addressing candidates with proper communication, which gets automated with the help of recruitment automation software. Using the benefits of recruitment marketing automation, you can monitor and analyze candidate data and create life cycle email campaigns based on that is one way to stop being dull.
What are lifecycle emails? These email campaigns carried out with recruitment automation software address candidate needs over time. It lets you dynamically segment your candidates based on various factors like experience level, social interactions, previous job history, skill sets, recruitment status, engagement level, and more.
Based on the segments, you can create tailored messages that are relevant and actionable.
You want your candidates to respond and move ahead in the funnel.
Using sales and marketing automation, you can create automated workflows and set triggers to keep the loop going on. Remember, segmentation is dynamic, which means your candidates are also segmented based on the immediate actions they take (or don't take).
Lead conversion is a multi-step affair. When a new lead enters your funnel, the first step is to segment that lead based on various (and appropriate) criteria like job, family background, skill sets, location, etc.
---
Execute Effective Marketing Automation Workflows Now
---
Once the basic segmentation gets done, you can automate a welcome email series for the new leads to welcome them into your network using marketing automation platforms.
You can make this a two-email series wherein you can quickly follow up to urge them to add more information about their skills and interests. You can also ask them to choose the segment that aligns with their interest and job search based upon the sales and marketing automation software. Proper segmentation and lead information make way for a longer drip email series, say a series of probably 10-12 nurturing emails. This drip campaign depends on many factors and triggers.
Lead activities are dynamic, so is the segmentation. Hence, your drip campaign should encompass all the major activity triggers that can happen before or after each email in that series.
You can create periodic job alerts, industry updates, guides, and other relevant content for more engagement. All these stands valid for those leads who have completed their application process within the first 72 hours.
However, there will always be a segment that did not, and that can be due to many reasons- getting stuck mid-way, lack of internet, unaligned content, etc. For such leads, you can use recruitment marketing automation tools to create an automated email campaign to urge them to quickly finish their application process, highlighting all the core benefits they'd get once they have completed the process.
Showcasing what they might miss out on can trigger action as a result of reverse human psychology.
Below is a workflow setup for 21 days. If you look carefully, this workflow is for one particular candidate in a specific segment. In these 21 days, the candidate receives easy-to-understand emails that prepare the candidate with all the information required for the job, about the company, and the future career prospects.
You can include all the information in your recruiting CRM to make your email marketing more updated.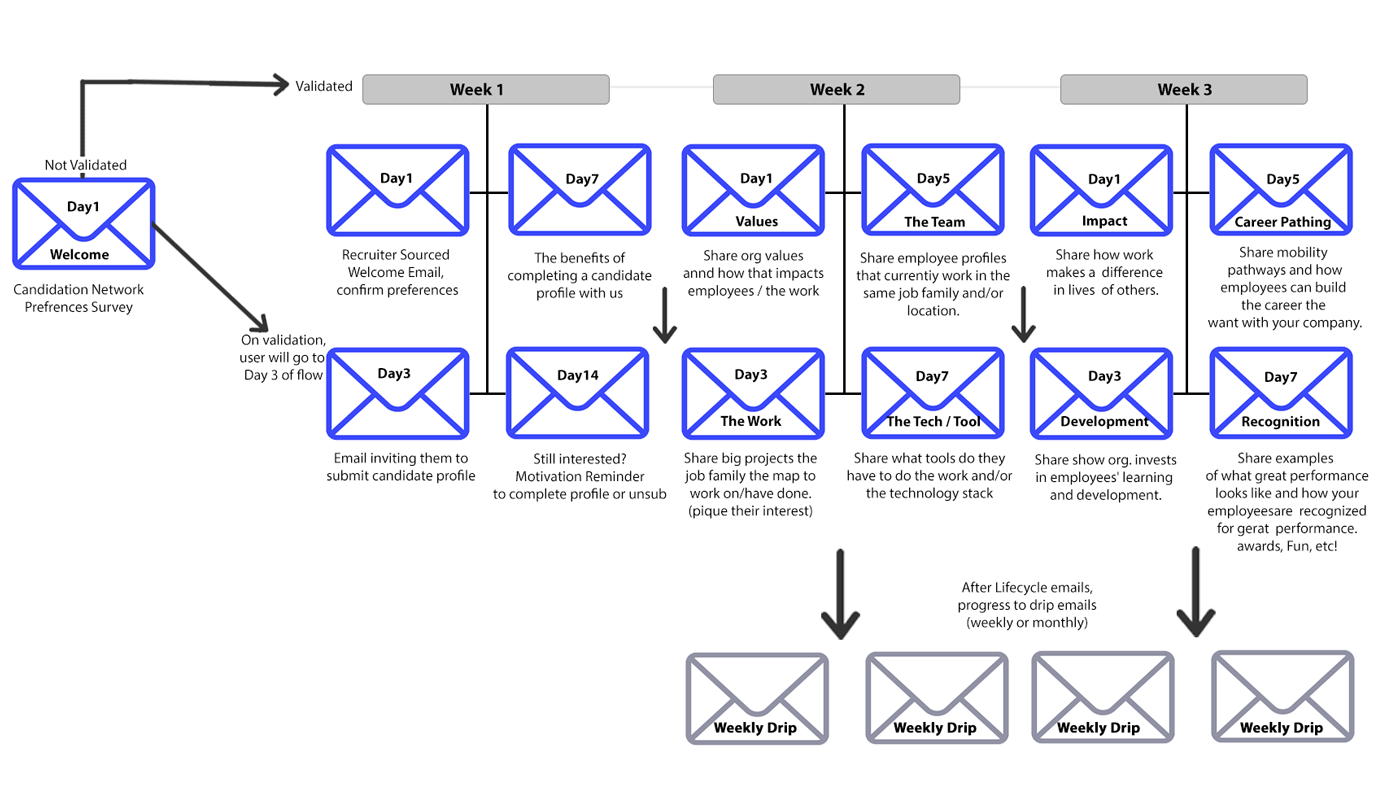 ---
Spilling the beans: Final takeaway
The secret to higher candidate engagement is to discard the commonly believed notion of "one-size-fits-all" recruitment. Understanding and accepting that each candidate brings a different set of skills to a company can help companies design a recruitment strategy utilizing recruitment marketing automation that improves conversion.
When a company respects a candidate's individuality, it simultaneously creates a 'brand individuality' (which is a win-win situation for both).