Convert Visitor to Identified Lead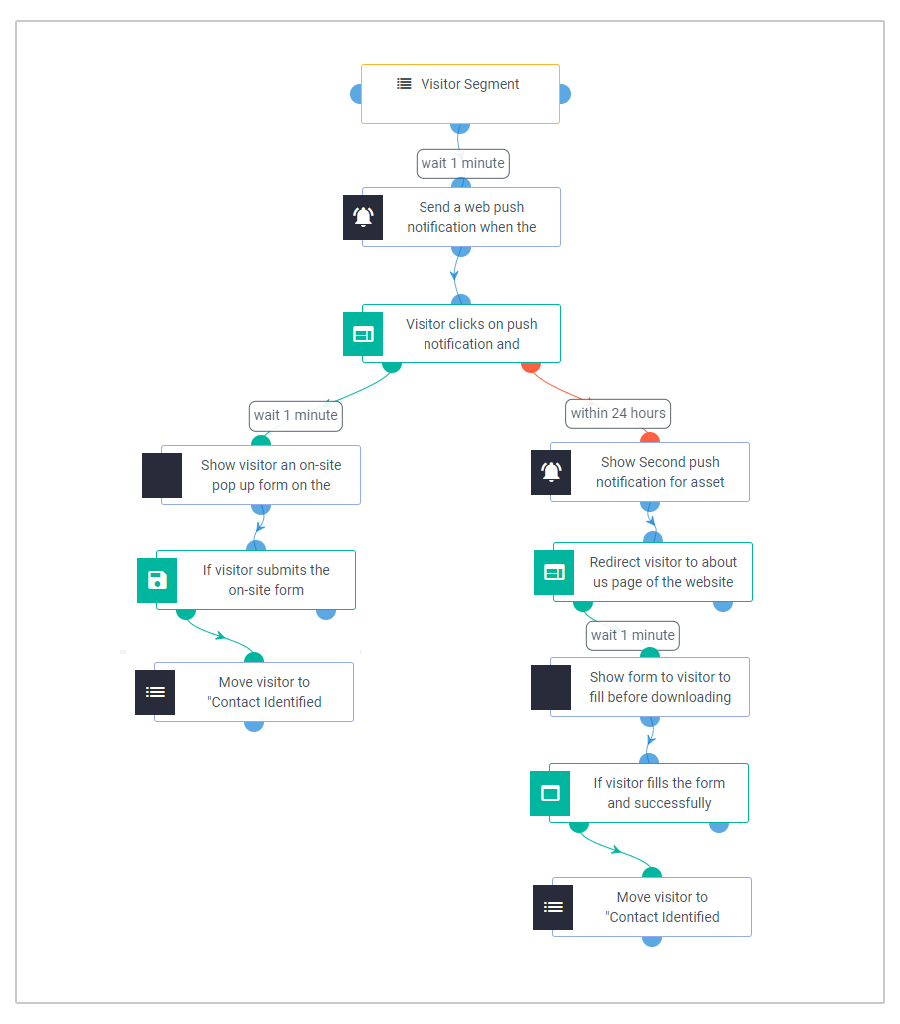 Overview
The Convert Visitor to Identified Lead workflow is a process that allows a company to nurture visitors to become leads. You can repeat this cycle several times before the lead becomes an actual customer.
This workflow is an efficient way of collecting data from customers and helps marketing and advertising agencies generate more leads. In addition, it automates the entire process, which in turn saves time and effort for marketers and advertisers.
It is an effective way for companies to increase their revenues and have lower cost-to-serve ratios by converting visitors into leads. It can happen in many ways, but one of the most popular conversion techniques is on-site pop-ups and static forms. Forms are an essential tool for many marketers and can be used to capture visitors' emails, collect leads for future marketing campaigns, and get feedback on their products or services.
A form is not just an interactive page with input fields that send entries to your email marketing list or database. Instead, it is a powerful way to take control of your lead generation strategy by adding an extra layer between your landing page and your email list sign-up form. The goal of this layer is to convert visitors into leads by offering them more information about you, what you do, and why they should continue talking with you about your products or services before signing.
Use Case
One example of the Convert Visitor to Identified Lead workflow can be seen in the way a company can send out automated newsletters to people who have subscribed to them. When someone subscribes, they are asked to enter some basic information. This information is then used by the company in order to segment and identify more details about their potential customer. This includes what type of product or services they liked, what interests them, and what psychographic or demographic data they entered into their profile.
The company will then use this gathered data for various purposes such as analyzing things like how often they open newsletters and what type of content attracts more attention than other types. With this information, companies are able to personalize their content so that it is tailored for specific groups of people.
However, the Convert Visitor to Identified Lead workflow includes three main aspects:
Visitor Acquisition

Visitor Engagement

Lead Conversion
Each of these three steps is dependent on the other to be successful. For example, a visitor will not convert if they are not engaged with your business, and they will not engage if you do not provide them with a good user experience through acquisition.
Execution in Aritic
Aritic has a prebuilt Convert Visitor to Identified Lead workflow for you. Click Resources > Automation Workflows> Ecommerce>Click the Convert Identified Lead to Customer workflow. 
The first goal of a marketing team is to Convert Visitor to Identified Lead; with Aritic PinPoint, this is automated.
Using a combination of anonymous retargeting, which includes retargeted ads, forms, browser web push notifications, and on-site widgets, the visitor gets converted into an identified contact with their email address. Further, the identified leads are engaged through a series of emails to turn them into paying customers.
In Aritic, Automation Builder is there for your assistance. You have complete control of how your Convert Visitor to Identified Lead workflow will be designed, all depending on the if-else conditions you put in the pre-designed Aritic template for your customizable flow.
Advantages of using this workflow
The Convert Visitor to Identified Lead workflow helps businesses get more leads and increase revenue by increasing visitors' engagement. In addition, this conversion process solves the problem of low click-through rates caused by sending irrelevant content that does not speak to the viewer's needs or interests.
This workflow provides significant advantages such as:
Improved lead quality

Higher sales conversions

Reduced cost per lead

Increased customer lifetime value