Coupon for Email – Welcome Series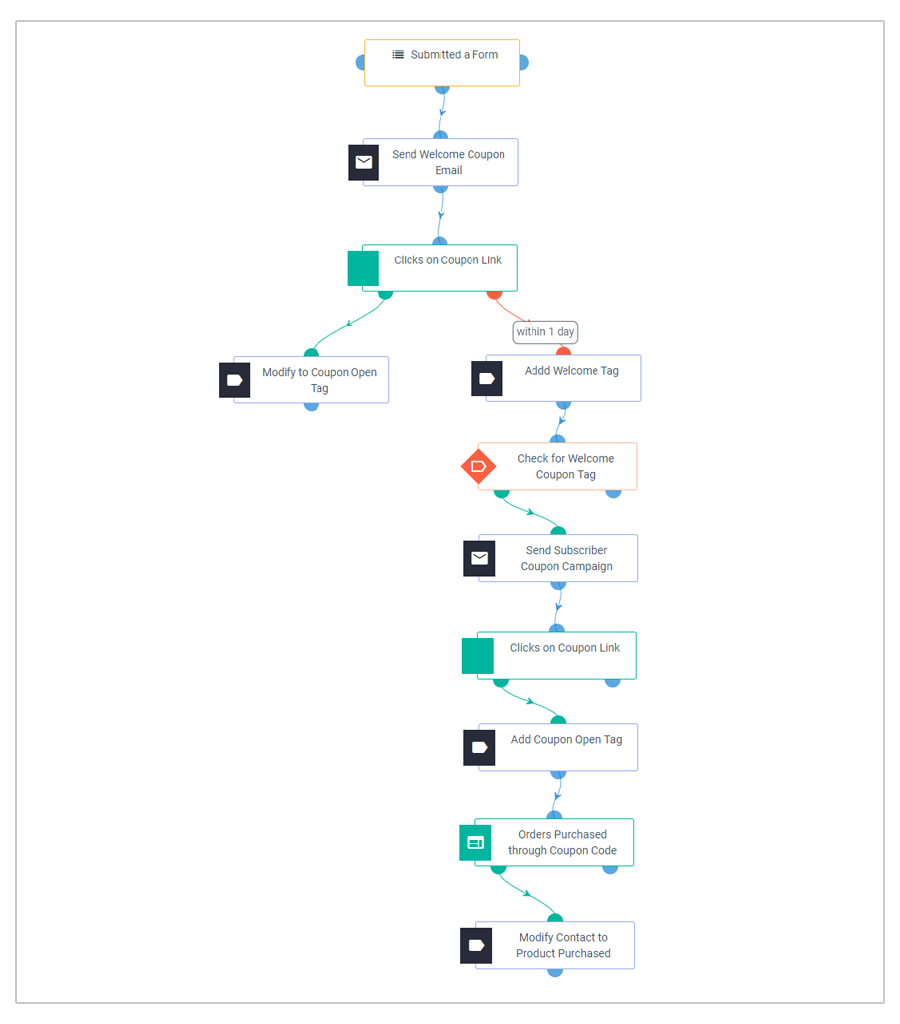 Overview
A Welcome Series workflow is an automated series of emails designed to welcome new subscribers. It is far more than just an email to deliver the coupon offer you promised them when they subscribed. Instead, it showcases your brand voice and style to your customers, the enthusiasm for doing business with you, and lets them know what they can expect in the future by opting for your brand. The email series usually starts from the moment a subscriber agrees to sign up for your newsletter and will be triggered every time they do something related to your blog, such as reading a specific article, following you on social media, or watching one of your videos.
Email welcome series can be used as a way to build trust with new subscribers, offer them value for their time and attention, and provide them with content that is relevant to their interests. Eventually, it could become an opportunity to sell products or push a specific agenda or offer.
Your goal with Coupon for email Welcome Series is to create content that people read and content that people engage with swiftly.
Use Cases
Welcome Series is an email-driven, drip marketing campaign that is helpful for onboarding new customers.

Welcome Series can be used to onboard new users. This type of email-driven drip marketing campaign provides a series of time-specific messages that help users get familiar with the product and encourage them to use it more often.

It also tries to reduce customer churn by providing solutions to their problems. The Welcome Series email workflow is a customer-centric process that initiates with a welcome message and continues with reminders about accounts on time and features they might have missed out on, etc.

All types of products or services can implement this email marketing campaign, but it mostly benefits products that are typically subscribed for monthly or yearly periods like SaaS, TV, OTT.
Execution in Aritic
Aritic has a prebuilt Coupon for Email Welcome Series workflow for you. Click Resources > Automation Workflows> Ecommerce to view the Welcome Series Integration workflow and Click the Coupon for Email – Welcome Series workflow. 
The main idea behind this workflow is to automate the onboarding of customers: Email Welcome Series is an excellent way to introduce your company and bring new users to it. It also helps in building a relationship with the customer.
The email can be sent out at different time intervals- as soon as they sign up after using the product for a while and when they have stopped using it. You can also send it out if a customer reports an issue or reaches out to you for help.
There are many ways that you can use the Email Welcome Series to better engage with your customers and turn them into loyal followers of your brand.
In Aritic, Automation Builder is there for your assistance. You have complete control as to how your workflow will be designed, all depending on the if-else conditions you put in the pre-designed Aritic template for your customizable flow.
Install this workflow to quickly grow your email list by sending out relevant discount coupon offers and encouraging your potential buyers to purchase using the exclusive Coupon.
This method triggers conversions and turns your new customers into your brand advocates who continue to promote your products and offers within their networks. All in all, it's a double win for you.
Advantages of using this workflow
When email series are designed accurately using Coupon for Email Welcome Series workflow, they bring you the following advantages:
Build trust and relationships with new users and customers.

It demonstrates the company's brand values and expectations in the best manner.
Welcome series email is more than just a bunch of automated messages sent to new users when they sign up or visit the site for the first time. Instead, it is a carefully crafted set of messages aimed at guiding users through their journey of exploring the site's content, products, services, etc.