Feedback Survey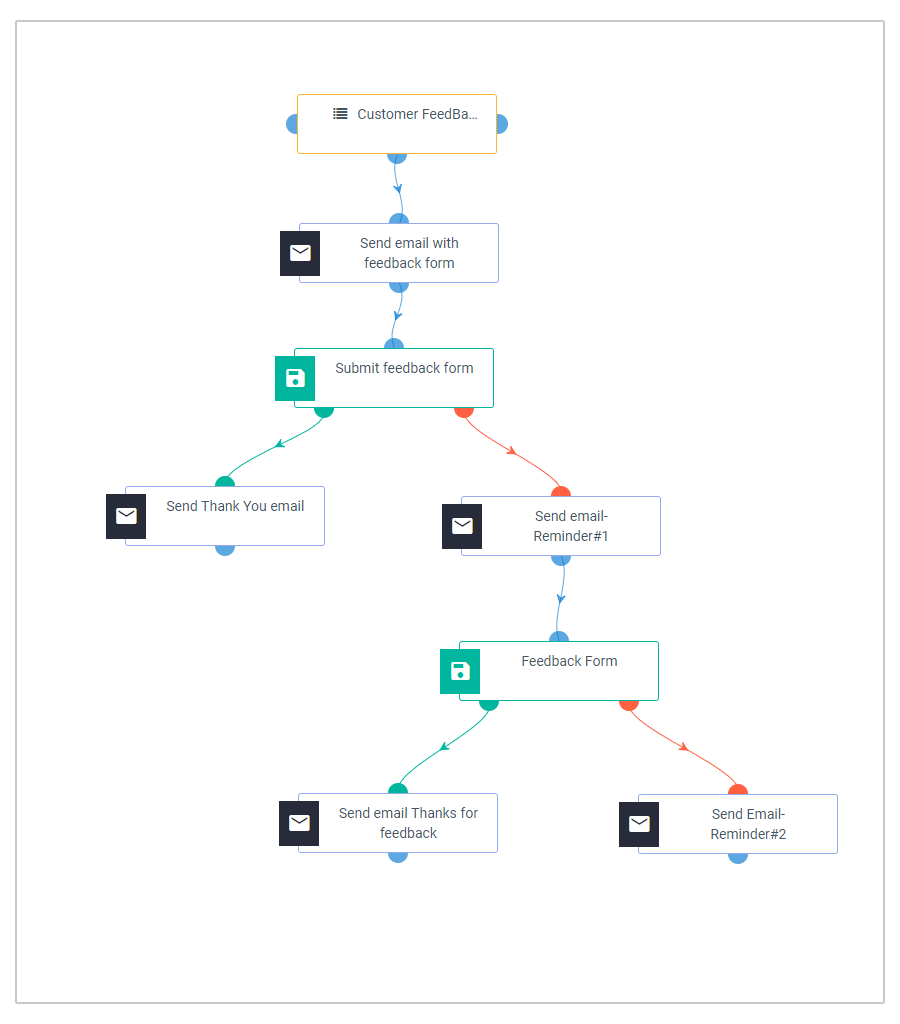 Overview
We live in an age of omnichannel feedback where customers expect personalized and transparent communication from all businesses. Emails are a good way to create a transparent communication medium when it comes to feedback survey campaigns.
But, since email is considered the most older form of communication than live chat or SMS, many people believe that email marketing has died because of the increased use of live chat platforms and chatbots. However, it's the other way around—email doesn't go anywhere, especially when it comes to customer surveys. 
Email continues to exceed most other marketing channels and is one of the most revenue-generating marketing channels, with an enormously high ROI of 4200% that is $42 on every $1 spent.
Since email as a marketing channel is here to stay, brands need to use it to get this kind of communication absolutely right. If not, customer feedback will be poor, customer engagement will wither away, and higher churn rates.
However, your email engagement is not limited to the number of clicks, click-throughs, or even conversion rates. What genuinely drives an email engagement is the effort to understand the real picture of your customers' overall email experience with your brand.
One of the easiest ways to discover that is to implement feedback survey workflows. Such workflows let you conduct feedback surveys of all customers who have interacted with your brand. Moreover, it enables you to build a genuine brand reputation by listening to your customers and implementing changes to enhance their overall experience with your products and services.
Use Case
Automating the customer feedback survey loop

Streamline task management

Analyze survey response and customer sentiment

Share feedback between teams

Analyze data to utilize business analytics outcomes
Execution in Aritic
Aritic has a prebuilt Feedback Survey workflow for you. To view the Survey Integration workflow, click Resources > Automation Workflows> Ecommerce, and click the Feedback Survey workflow. 
The main idea behind this workflow is to automate the feedback survey loop: if you wait too long for a customer to interact with your brand, your follow-up email will not be relevant. Won't it? In addition, to get a real-time pulse on what your customers think, you need to send personalized surveys via email right after specific customer trigger activity.
Here's how the "Feedback Survey" workflow automation works in Aritic:
Your customers enter the cycle. Send an Email With Feedback Survey Form.
Follow the flow as per the two cases below once the Trigger actions such as "Submit Feedback Form" are taken after sending the "Email With Feedback Survey Form" email to your customers requesting to provide their valuable review.
Case #1- 
When contacts respond to your email and submit a feedback form

Send Thank You Email immediately

The workflow loop is closed
Case #2- 
When your contacts don't respond to your email and no feedback form is submitted by them. Send Email Reminder #1 within 3 days

Now, if contacts respond to your email and submit feedback forms, Send Thank You Email immediately

Or else, if contacts don't respond to your email and no feedback form is submitted, Send Email Reminder #2 within 3 days

The workflow loop is closed
In Aritic, Automation Builder is there for your assistance. You have complete control as to how your workflow will be designed, all depending on the if-else conditions you put in the pre-designed Aritic template for your customizable flow.
Advantages of using this workflow
When email surveys are designed accurately using feedback survey workflow, they bring you the following advantages:
The churn rate is reduced drastically, and you can re-engage your loyal customers

Easily personalize your engagements with respondents

Get a clear view of customer sentiments