Lead Scoring Workflow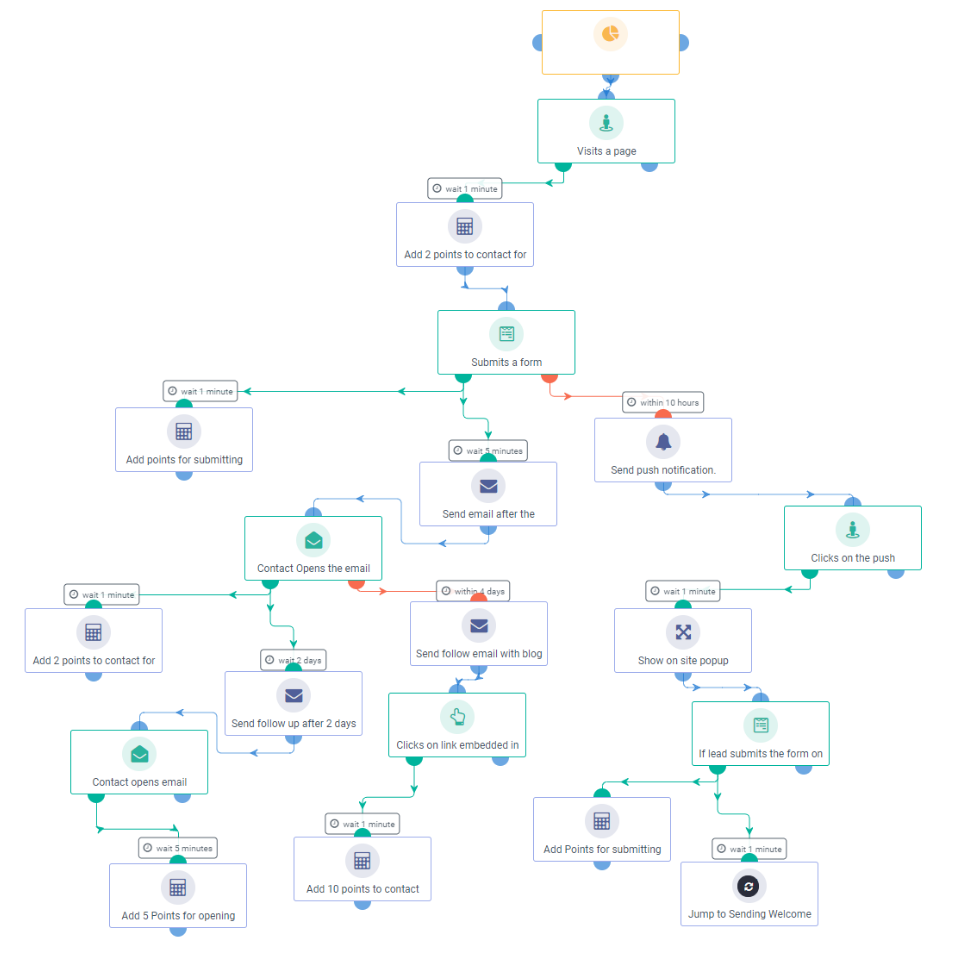 Overview
Lead scoring workflow is an integral part of any marketing automation campaign. It is a technique to assign numerical values to lead sources and then sort them based on that value so that sales and marketing can prioritize high-priority leads. 
The reason companies use lead scoring is that it's a way of quantifying the level of interest from prospects or potential customers and then use this quantification for sending targeted messages at the right time that tremendously helps convert a lead into a paying customer. 
When you implement a lead scoring system, your whole organization turn more productive and efficient in terms of growth. In fact, Organizations using a lead scoring model are experiencing a 77% increase in their lead generation ROI.
Lead scores are primarily based on customer activity, attributes, and information such as interactions with the company's website and content collaterals.
Your goal with lead scoring workflow is to track leads as they move closer to a conversion, adapting your marketing strategy and communications along the way.
Use Case
Dynamically segment your lists with lead scoring

Identify the most valuable leads who've shown a massive interest in your product or service and use it for ad targeting

Set up a marketing automation sequence that assigns points to every action of a lead to map out your buyer journey to continue nurturing
Execution in Aritic
Aritic has a prebuilt lead scoring workflow template for you. Click Resources > Automation Workflows> Sales Enablement and Click the Lead scoring workflow.
The main idea behind this workflow is to automate a powerful lead scoring system whilst saving hours. This template allows you to add and subtract scores based on all lead actions.
Effectively qualify your leads with rule-based triggers such as Page visits, Form submissions, Email opens, Push notification clicks, Email embedded link clicks, and so on. In addition, it will enable you to assign scores and move them through the purchase process for configuring the most efficient workflow for your organization.
In Aritic, Automation Builder comes to your aid. You have complete control over how your lead scoring workflow will be designed, depending on the if-else conditions you put into the pre-designed Aritic template for your customizable workflow.
Install this workflow to sort through all of the leads that come to your website and identify the most engaged and ready to convert.
Advantages of using this workflow
Lead scoring acts as a common thread that connects all of your leads to your sales funnel. When the lead scoring model is designed strategically using lead scoring workflow, they will bring you the following advantages:
Boost conversions with lead scoring

Minimize lost opportunities

Better Sales and Marketing alignment

Keep productivity wheel rotating 

Create targetted contact lists in terms of New leads, Warm leads, Qualified leads, Sales qualified leads
Lead scoring is more than just assigning scores to leads when they take specific actions, such as web page visits. Instead, it is also about defining parameters and conditions in your model so that you can set up your dynamic segmentation to add users to specifically designated lists to target them with efficacy.