Product Review Campaign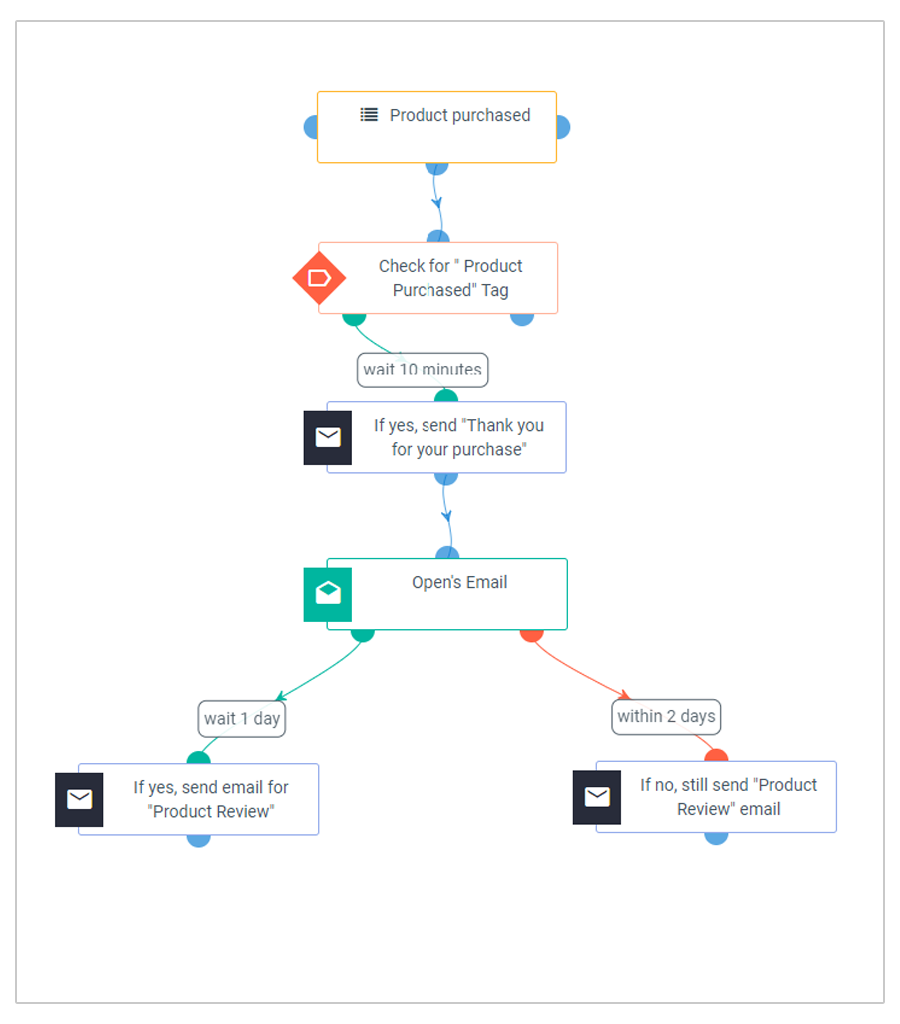 Overview
Online reviews affect the buying decisions of over 93% of consumers, as suggested by the Podium survey.
Obtaining product reviews from your consumers using product review campaign is a robust approach that should never be overlooked or ignored. Knowing what your consumers are saying about your product or service really matters, so take advantage of this chance to build a solid reputation for your brand.
Above all, the customer reviews are powerful chunks of social proof that act as an effective catalyst for your prospects to buy and look at you as a trusted and reputable brand. Send product review-based emails to your customers to optimize their overall buying experience and create a brand reputation among your customers so that they keep returning to you repeatedly. Also, genuine customer reviews are a great way to bring in newer customers.
Use Case
The main idea behind product review campaign workflow is to automate the process of gathering customer reviews effectively: After someone buys a product, you can get them to write a review about what they just bought. It's a great way of boosting customer engagement with your brand. 
Give your customer service a leg up with product review-based emails. As much as your shoppers love your products or services, motivate them to add their opinion on your product for growing advocacy.
In totality, it is accomplished by sending product review campaign workflow emails. To send product review emails, you can use Aritic's integrated product review/cross-selling workflow as a starting point, or you can build your own from scratch using our automation builder.
Product review campaign emails can also be of assistance in launching a contest and reward your loyal customers. Offering incentives, contests and giveaways are also another engagement driver that encourages your customers to leave a review.
Moreover, product review campaign emails may also be used as a means to launch a contest and reward your loyal customers. Providing incentives, contests, and giveaways is also an additional engagement factor that encourages your customers to leave a review for your brand.
Execution in Aritic
To figure out how to start creating a successful automated sequence, you have to consider positive and negative reviews and whether your customers are submitting a review or not.
Although some ecommerce companies include a recommendation for a product review in their first email, it would be more practical to send a simple thank you email to your shoppers, asking them to contact you immediately after the product is delivered to make sure that the shipment service went fine. It shows that you care about them and minimizes the potential to leave a negative review on your website.
Many e-commerce firms include a recommendation for a product review right in their first email. However, it would be practical to send just a simple thank you email to your buyers once they place their order. And, afterwards, send an email once the product is delivered, asking them about their delivery experience or ensuring the shipment they received was satisfactory. It will showcase that you care for them and minimizes the chances that a customer will leave a negative opinion on your website.
Here's how the "Product Review Campaign" workflow automation works in Aritic:
Your customers enter the cycle. Send an Email with the Product Review Form.
Follow the flow as per the two cases below once the Trigger actions such as "Open's Email" are taken after sending "Thank you for your purchase" email to your customers.
Case #1- 
When a contact opens your "Thank you for your purchase" email

Send email requesting for "Product Review" within 1 day

The workflow loop is closed
Case #2- 
When a contact doesn't open your "Thank you for your purchase" email

Send "Product Review" email mentioning extra benefits  within 2 days

The workflow loop is closed
To construct your own product review campaign workflow from scratch, Automation Builder is there for your assistance. You have complete control over your workflow design, depending on the if-else conditions you put in the pre-designed Aritic template for your customizable workflow.
Advantages of using this workflow
You can create predefined replies that will be automatically sent out when a specific event is triggered. For example, you can draft a customized response containing relevant recommendations or offers to be sent to your customers. Or, you could send automated conversation starters to customers who leave no review.