Seasonal Offers – Black Friday and Cyber Monday
Seasonal Offers - Black Friday and Cyber Monday Workflow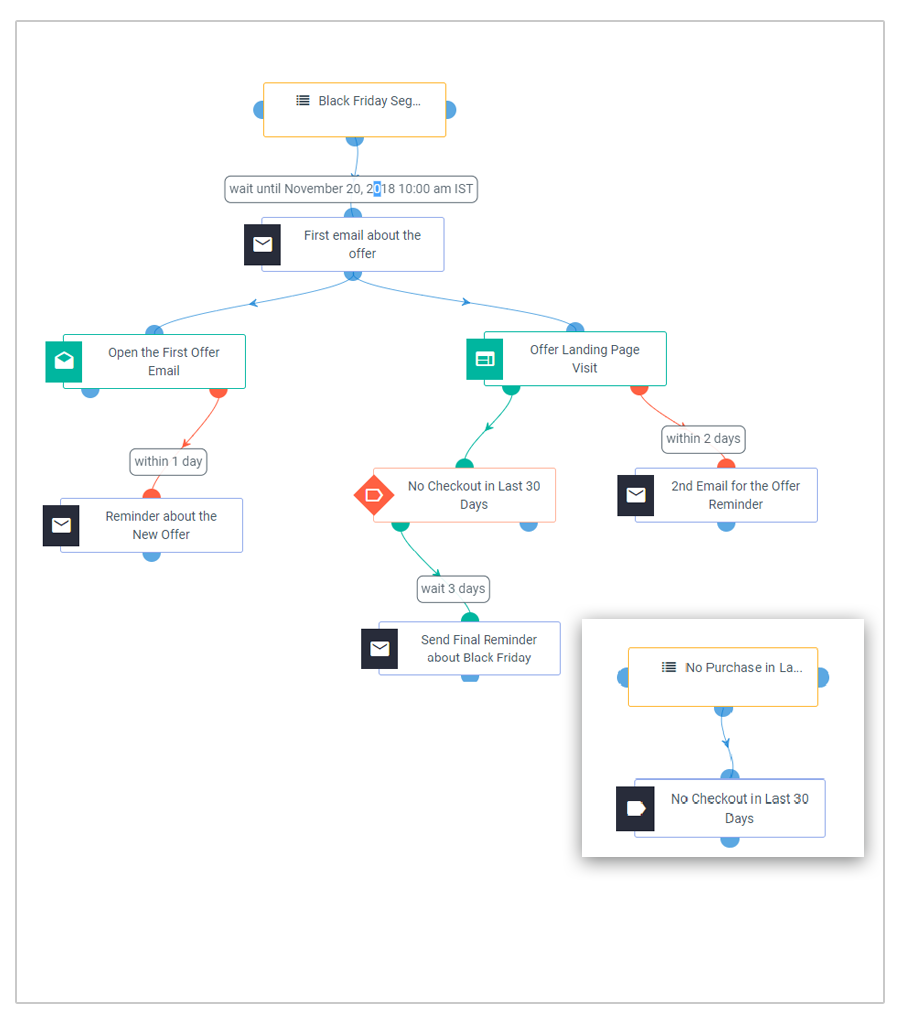 Overview
With the rise of online shopping, people are more prone to spend their money online than in stores. This trend is what has led to the popularity of Seasonal Offers – Black Friday and Cyber Monday
The whole holiday buying process starts weeks before Seasonal Offers – Black Friday and Cyber Monday. Some sales begin as early as October or November. People buy things at lower prices to get Black Friday discounts when it comes closer or if they want to take advantage of Cyber Monday deals.
Black Friday is traditionally on the day after Thanksgiving, but Cyber Monday was introduced in 2005, so it became a good alternative for those who don't have time to shop over Thanksgiving weekend or prefer to do their shopping from home. 
Seasonal offers are a great way to boost sales and generate revenue for retailers, but managing them can be difficult. 
To plan out your seasonal offer, think about your product range and which products have an excellent seasonal aspect or fit with the event, then make a list of all the products that you want to include in your offer. It should consist of items that customers buy for gifts and those they would buy for themselves. Some of these may need to be pre-ordered before Black Friday if there is not enough stock on-site, so it is essential to get this sorted early on so you don't run out of stock at an inconvenient time.
Use Case
Offering the best deals for seasonal holidays is a common practice for retailers. But it's not only about the discounts. The timing of these offers, Black Friday and Cyber Monday, also plays a vital role in getting more sales during these days.
There are many different ways to approach seasonal offers besides just discounts:
Introducing new products 

Giving exclusive access to certain products

Creating campaigns around one product with special offers or events going on around it
Execution in Aritic
Aritic has a prebuilt Seasonal Offers – Black Friday and Cyber Monday workflow for you. Click Resources > Automation Workflows> Ecommerce> Click Seasonal Offers – Black Friday and Cyber Monday.
Capture all your hot leads before the "buying" days end. Create power-packed amazing deals for special offers to remind your customers about Black Friday or Cyber Monday. Craft special deals to perk up your customers. Use this simple Seasonal Offers – Black Friday and Cyber Monday workflow to engage your customers with customized deals and early offers that are hard to miss. Or, if you want to create your own version, you'll be able to easily do it using Aritic Automation Builder.
In Aritic, Automation Builder is there for your assistance to create or modify your campaign workflow. Thus, you have complete control of how your workflow will be designed, all depending on the if-else conditions you put in the pre-designed Aritic template for your customizable flow.
Advantages of using this workflow
With the ever-changing retail environment, retailers have to look for new ways to attract their customers. And one of the best ways to do this is with seasonal offers.
The following are the advantages of using Seasonal Offers – Black Friday and Cyber Monday workflow:
Increase customer loyalty and attract new customers

Entice buyers to spend more during a single purchase

It can be used as insurance against competitor's aggressive pricing strategies when appropriate

Helps businesses create a sense of urgency among buyers, which helps motivate them to purchase more than they usually would